Wrapper: Honduran Trojes
Binder: Indonesian
Filler: Nicaraguan, Honduran
Size: 5.5 x 50
Body: Medium
Price: $104.50 for Box of 20 ~ $33.56 for a 5 Pack
Written by Katmancross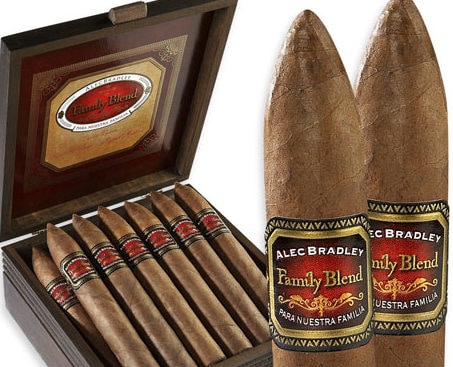 This Alec Bradley Family Blend cigar was awarded #16 in Cigar Aficionado's best cigars of 2009. According to Alec Bradley's website, the cigars were created "expressly" for the fathers of the firm's three top execs.
The Family Blend cigars are blended at Tabacos Raices Cubanas in Honduras, the factory that also makes Alec Bradley Tempus and Prensado cigars. Family Blend is made up of specially selected Honduran & Nicaraguan longfillers, plus an Indonesian binder rolled in a beautifully aged Honduran Trojes wrapper.
The pre light offered an earthy, nutty aroma, with a sweetness at the foot.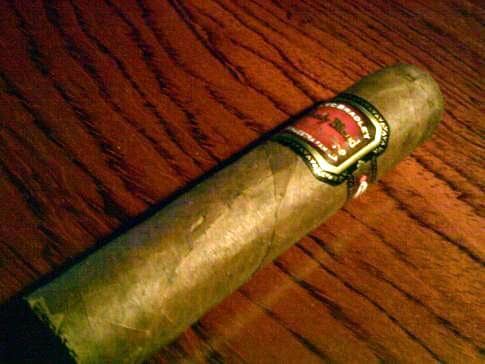 There are a few medium sized veins that stand out on this stick, but all in all, the construction is excellent. The pigtail cap provides an attractive look. The cigar is firm and has no soft spots.
Upon light up, I could taste a sweet spice, a hint of leather and some earthy tobacco flavors that round out this little flavor profile. It has a perfect draw and a dead even burn.
During the first third, the sweetness and the spice grew a little bit. The sweetness slowly becomes a dark fruit, maybe raisins or dark cherries, and the spice turns into a  dark, earthy spice,  like cinnamon.
Into the second third, I got notes of earth and creaminess. The creaminess warms the palate and makes the mouth smile.  There was also a heavy dose of sweetness from the fruity component.
As I approach the last third, the body has ramped up into the medium range and the stick has a little more bite. Zesty, as the Alec Bradley folks proclaim.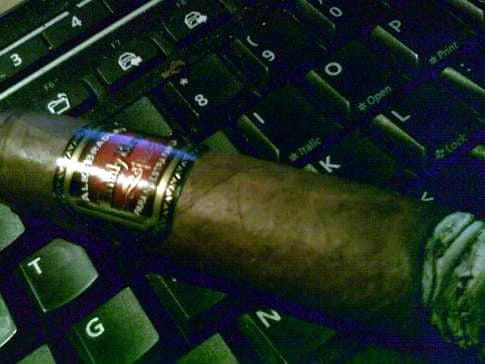 The last inch brings out red pepper flavors in full force.  The other flavors are keeping the spice tamped down. The creaminess is just lovely and so is the sweetness and earthiness.
It's never harsh or bitter and very easy to nub it.