Arturo Fuente Brevas It's a Girl!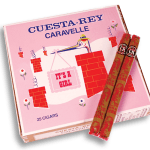 Cuesta Rey Caravelle - It's a Girl
SKU: 02CRCAG
Cuesta Rey Caravelle cigars have been a long-time favorite of Dominican cigar lovers. Each cigar says "It's a Girl" on the wrapper.

Celebrate your new baby girl's arrival with It's a Girl cigars from brands like Alec Bradley, Arturo Fuente, Rocky Patel and more. In stock and ready to ship today. By the way, congratulations.