Listen to the article.
Cigar shipments in the U.S. were down in the first quarter of the year, off 9.5 percent from the first three months of 2019. Only some of this slowdown, however, can be blamed on the effects of the pandemic, as it wasn't until March when cigar factories began to close, interrupting shipments. A greater slowdown is expected for the months of April and May, the peak of the shutdown across the cigar industry.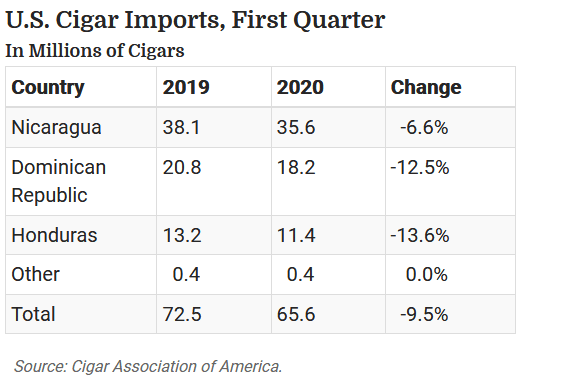 Shipments from Nicaragua, the Dominican Republic and Honduras—the No. 1, No. 2 and No. 3 producers, in order—were all down for Q1, but the decreases were more severe in the Dominican Republic and Honduras. Honduras was the first major producer to shut down non-essential businesses (including the nation's cigar factories), closing down operations on March 17. Some factories in the Dominican Republic began to close soon after, and some of these closures lasted for two months, meaning shipments in April and even May should show an even steeper decline. Nicaragua was the least affected by the shutdown, with many cigar factories remaining open throughout the pandemic.
Market leader Nicaragua shipped 35.6 million cigars in the first quarter of 2020, down 6.6 percent from the 38.1 million shipped in Q1 of 2019, according to the Cigar Association of America. Dominican shipments slipped from 20.8 million to 18.2 million, a decrease of 12.5 percent, while Honduras dropped 13.6 percent, from 13.2 million to 11.4 million.
The United States imported 337.7 million handmade cigars in 2019, the eighth year in a row where imports surpassed 300 million. The market was down 6.6 percent from the stunning 362 million imported in 2018, the most cigars imported in two decades.
This might be a good time to stock up that humidor with the cigars that you love and possibly a time to buy a humidor to stock up.