Cigar Sampler Special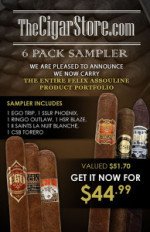 The Cigar Store Felix Assouline Sampler
SKU: TCSSAMPLER
Felix Assouline Cigars is proud to introduce their premium cigar brands made in their factory in Esteli, Nicaragua, the Capital of Tobacco. This sampler made especially for TheCigarStore.com includes the following tasty treats:
1 - Ego Trip
1 - Something Special Reserve Phoenix
1 - Ringo Outlaw
1 - Havana Sunrise Reserve Blaze
1 - II Saints Las Nuit Blanche
1 - CSB Torero

Looking for some great cigar samplers? A great way to try new cigars or just get a quality variety of cigars. Great for gifts as well.