Using the proper lighting instrument is essential for premium tobacco products. And when it comes to cigars, a refillable butane torch lighter gets the job done every time. Check out our long list of cigar and pipe lighters from single torches to giant tabletop lighters and never deal with an uneven burn again.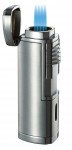 A "must have" for all smokers!
Beautiful pipe lighters - makes a great gift!