Need a great gift or last minute gift?
Gift certificates from TheCigarStore.com. A perfect gift for anyone who enjoys cigars.
Receive an actual gift certificate in the mail or a printable gift certificate within an hour via email
Easy to Use
Redeemable at TheCigarStore.com
Great present for any time of the year.
Easy and convenient for both the giver and receiver
Emailed instantly to you or the recipient
Arrives within two days via Priority Mail if mailed
Recipient buys exactly what they wish, when they wish
Always a great present for friends and family
Great for employees and associates
No expiration date
Not returnable or refundable for cash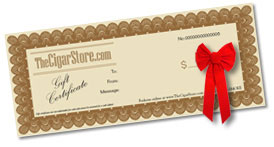 Our wide selection of premium cigars and cigar accessories will delight your gift recipient.